At a celebratory morning tea with their families on 23 October, New Zealand Steel President Mr Simon Linge named Aashay Nobre of St Peters College and Aaron Boot and John Su of Pukekohe High School winners of a New Zealand Steel Undergraduate Scholarship.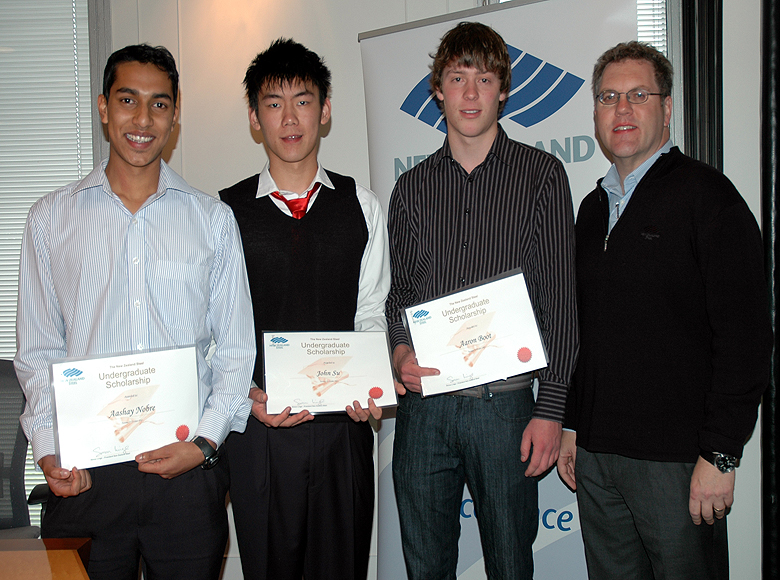 The scholarships are part of NZ Steel's ongoing commitment to the community and to the development of young talent.
Praising the calibre of all 25 entrants this year, Mr Linge commented that the judges had found the job of selecting just three very challenging. In congratulating the winners and their families, he talked of the significance of the NZ Steel scholarship, adding that the students' success was a testament to both their academic and personal skills. He also acknowledged the role their parents had played in their development.
Mr Linge wished the young men well as they prepare for their final exams and then onto their tertiary studies and said he was looking forward to welcoming them back for their summer holiday work experiences at New Zealand Steel, which he was sure would be valuable in supporting their studies.
Pukekohe High School Principal Mr Ian McKinnon thanked New Zealand Steel for making these scholarships available again this year and, in congratulating the young men, added that their scholarships were great recognition for themselves and their schools. He expressed pride that two students from Pukekohe High School had achieved scholarships from a company of the pedigree of NZ Steel.
All three students intend to study Engineering at Auckland University.