A better quality home
Steel-framing is a straight and stable product that delivers an excellent finish. The rollforming technology behind steel-framing gives a high degree of dimensional accuracy, enabling consistently straight walls, square corners and an overall superior finish. The exactness that comes from building in this way helps later trades fitting internal linings, kitchens and other cupboards. Plus the stability of steel means no contraction or expansion with moisture changes, so frames won't warp, twist, sag or shrink, eliminating many of the maintenance issues that create builder call-backs.
The strength of steel
Axxis® steel is exceptionally strong and built for the toughest conditions. It is fire resistant and strong and has been shown to have excellent earthquake resistance. Its durability means that it won't rot or support mould growth and it won't suffer from borer or other insects. It's also galvanised to prevent corrosion when good weathertightness principles are applied to the cladding design and installation.
Peace of mind: A 50-year Durability Statement
Axxis® steel has been developed and tested by New Zealand Steel, for New Zealand conditions. Galvanised with a 100% zinc coating for protection, it is backed by a 50-year Durability Statement, so you can trust that Axxis® steel will stand the test of time. Please contact us for a copy of the Durability Statement.
Design flexibility
Steel-framing opens up a variety of design possibilities. Steel's high strength-to-weight ratio gives it excellent spanning capability, providing more design freedom to cost-effectively create wide, open spaces.
Steel is 100% recyclable
Axxis® steel is made with consideration for the environment. It is manufactured in New Zealand from locally mined west coast iron-sand and is made with a component of recycled steel. Axxis® steel is galvanised by New Zealand Steel during the manufacturing process and requires no further additional preservative chemical treatment. And because steel-framing sections are rollformed to length there's minimal wastage, reducing the environmental impact from building site waste going to landfill. Steel is also 100% recyclable, again and again, without losing its properties.
Value for money
Axxis® steel, combined with the rollforming technology behind steel-framing, allows every framing member to be straight, strong and stable. This means that when you build with Axxis® steel you're building with a top quality product so you're ensured a quality finish. Steel-framing is a complete system, cost competitive with timber-framing, and depending on the design of your home it can be cheaper.
A healthy home
Axxis® steel is non-allergenic and has been recognised as a 'Sensitive Choice' product. Axxis® steel doesn't support mould growth or rot, and its stability gives it the potential to reduce cracks in claddings and linings. Axxis® steel does not contain additional preservative chemicals and won't give off gases or emit VOC's.
A steel-frame is lightweight and easy to handle (it's approximately one third of the weight of a timber-frame). Steel has none of the additional preservative chemicals associated with timber, an important consideration for the health of builders and tradesmen working on-site. Standard practice is to earth steel framing, making it electrically safe as well as being fire-resistant.
AXXIS® Steel for Framing is Red List Free and Living Building Challenge Compliant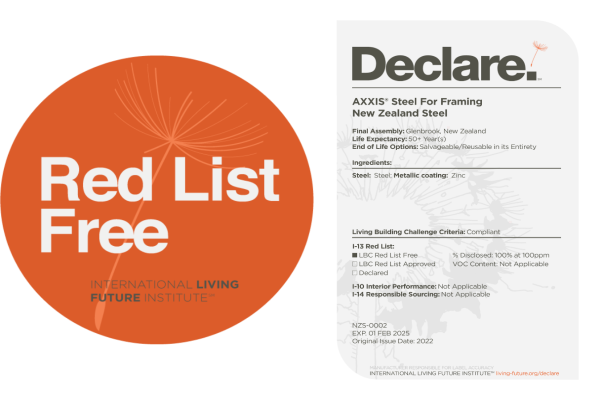 Speed of construction
Working with steel-framing is very fast and easy. Manufacturers usually supply frames pre-assembled, strong and straight, and clearly identifiable. No welding is required. The frames come with service holes pre-punched and with plastic grommets to make it easy for sub-trades to work with. Plus best of all the steel-frames do not absorb moisture so there is no delay waiting for frames to dry.
Ease of specification
Because there aren't a multitude of strength grades and treatment levels to consider, AXXIS® steel for framing is simple to specify. The Axxis® steel-framing manufacturers can assist each step of the way - by providing frame and truss detail drawings, engineering certificates and documentation for consent applications and Code-compliance. The National Association of Steel Framed Housing (NASH) also has a number of technical resources available through their website at www.nashnz.org.nz
The following branded section has been prepared by Construction Information Limited (Masterspec) in conjunction with New Zealand Steel. The downloading and/or use of this section is subject to the following terms and conditions:
Users of this section shall rely solely on their own professional judgement and skill in determining the appropriateness of using or referring to this section and to satisfy themselves as to the accuracy of the data it contains.
Users acknowledge that neither Construction Information Limited nor the manufacturer of the products and systems described in the text are in any way liable in respect of any particular use or application of the material provided.
Axxis® Steel MasterSpec Specification